CBD drops have become incredibly popular in recent years. The cannabinoid is one of the most abundant and well-known in the cannabis plant. Unlike THC, CBD is a non-psychoactive compound, meaning that it doesn't get you high. 
Did you know that people aren't the only ones who can benefit from using CBD products? Here, we'll take a look at using these products for your four-legged family members. 
Benefits of CBD Drops for Pets
Like humans, cats, dogs, and other animals have endocannabinoid systems. CBD can provide benefits to your four-legged companions just as it can to you. Some of these benefits include:
Alleviating inflammation 

Easing discomfort from arthritis

Reducing

epileptic seizures

Lessening anxiety, including separation anxiety as well as anxiety caused by thunderstorms and fireworks
One thing to keep in mind is that veterinarians generally aren't allowed to discuss or recommend the use of CBD for pets. If you do decide to use it, make sure that you select one specifically for pets. CBD drops for humans may contain THC, which could cause issues for some animals.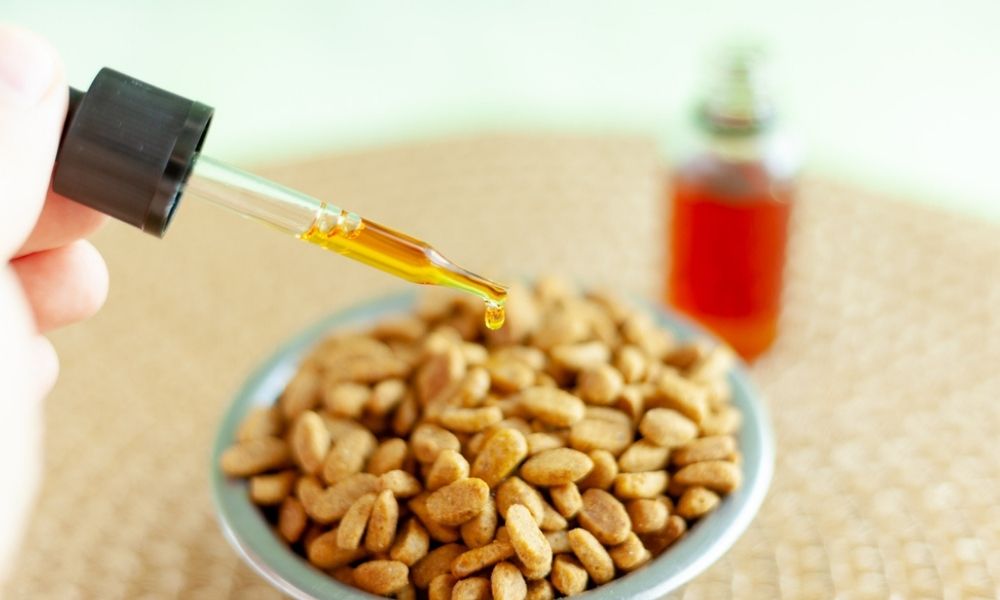 How to Administer It to Your Pets
When it comes to administering a tincture to your pets, you have a few options. One is to use the dropper and place the dose directly in your pet's mouth. Some are more willing than others to accept it this way. If your pet is a little hesitant, approach them gently and make them feel comforted. Carefully open their mouth and drop the dose in. Avoid forcing your pet, though, because you don't want to scare them. 
After you give your pet their dose of CBD, offer a treat as a reward. Giving a cookie or another tasty snack can help your pet associate their drops with positive experiences. 
Another option you have is to drop your pet's dose right into their food and mix it in. Much like mixing a tincture with food for your own use, putting your pet's CBD drops in their meal can help to mask the flavor. 
Are There Any Side Effects?
Some pets do experience side effects when it comes to using CBD drops. Some of the most common include:
Drowsiness

Dizziness

Diarrhea 
For the most part, these side effects are generally mild, and they do go away over time. If the side effects don't go away or appear severe, stop using it and schedule an appointment with your vet. 
Another thing to keep in mind is that there isn't a lot of research regarding the interaction of CBD with other medications. If your pet takes other medications, be sure to consult with your vet first. 
Considering CBD Drops for Your Pet
CBD drops aren't just for humans. They can help improve your pet's overall quality of life, too. With these products, you can help to ease your pet's pain, inflammation, separation anxiety, fear, and so much more. 
While these tinctures are generally safe for pets and can help with a variety of ailments, you shouldn't use them as a substitute for veterinary care. If you're concerned about your pet's health, consult with your veterinarian first. They can diagnose the issue and set you on the right path to help them feel their best.
‌